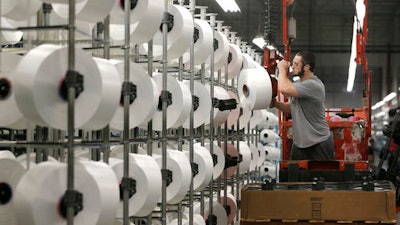 AP Photo/Chuck Burton, File
WASHINGTON (AP) — The Institute for Supply Management said Wednesday that its manufacturing index came in at 56.0 in January, up from 54.5 in December and highest since November 2014's 57.6. Anything above 50 signals growth. Manufacturing has now grown for five straight months and for 10 of the last 11 months.
Factories said that new orders, production and hiring grew faster in January. Export orders grew last month but at a slower pace than they did in December.
Twelve of 18 manufacturing industries reported growth in January, led by plastics and rubber manufacturers. The ISM is a trade group of purchasing managers.
Ian Shepherdson, chief economist at Pantheon Macroeconomics, said in a research note that ISM's January numbers are "consistent with a clear and robust acceleration in manufacturing output."
Factories have been expanding despite a strong U.S. dollar, which makes American products more expensive in overseas markets. They also have recovered from big cutbacks in the energy industry, which reflected low oil prices.
The ISM's findings aren't always in line with other measures of manufacturing health.
For instance, the institute's survey showed that factories expanded hiring in October, November and December. But the Labor Department says American manufacturing jobs fell by 4,000 in October and 7,000 in November before increasing by 17,000 in December. Overall, Labor reported that factories cut 45,000 jobs in 2016, the first annual drop in manufacturing employment since the recession year 2009.
Likewise, the Federal Reserve reported last month that U.S. factory production ticked up a modest 0.2 percent last year.