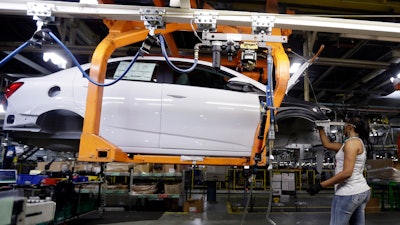 AP Photo/Carlos Osorio
WASHINGTON (AP) — U.S. factory output rose slightly in October, aided by greater production of automobiles, home electronics and appliances.
The Federal Reserve said Wednesday that manufacturing production improved 0.2 percent last month, matching the gain in September. The broader industrial production category, which includes mining and utilities, was flat as warmer weather reduced the demand for heating.
Manufacturers have endured a brutal year that crimped sales and hiring. The relatively strong dollar made U.S. goods more expensive overseas, hurting exports, while ow energy prices dried up demand for drilling equipment and pipelines. Businesses became cautious about investing in machinery.
The seeds of a rebound in factory output began this summer as manufacturers adapted to these obstacles. Still, over the past 12 months, factory production has fallen 0.2 percent.
Mining output rose 2.1 percent last month, though it has fallen seven percent in the past year. Utility production tumbled 2.6 percent. Separate reports suggest that manufacturing is slowly progressing back to full capacity.
The Institute for Supply Management says its manufacturing index came in at 51.9 in October. Anything above 50 signals growth. Production and export orders grew faster in October. A measure of factory employment rose last month after falling for three straight months.