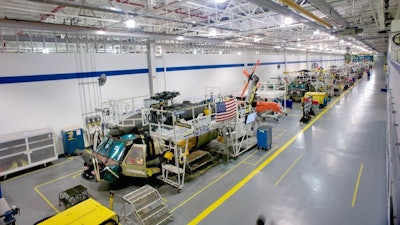 Lockheed Martin
Sikorsky, a Lockheed Martin company, was recently recognized as Florida's Manufacturer of the Year by the Manufacturers Association of Florida at the 13th Annual Manufacturers Summit and Marketplace in Gainesville, Fla.
Lockheed Martin has approximately 12,000 employees in Florida with manufacturing areas across the state.
Sikorsky's West Palm Beach facility manufactures and tests UH-60M Black Hawk, CH-148 Cyclone and CH-53K King Stallion developmental helicopters.
Sikorsky's manufacturing processes were assessed and validated against rigorous criteria.
Sikorsky has been a pillar of the Florida community for nearly 40 years.
In addition to helicopter assembly and flight testing, Lockheed Martin operations in Florida focus on space exploration, missile and sensor development and manufacturing, information technology, undersea systems, and training and simulation for such aircraft as the F-35.