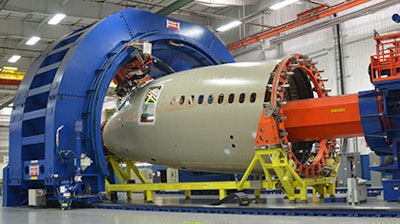 WICHITA, Kan. (AP) — Spirit AeroSystems has filed a $20 million construction permit for the building where it manufactures a part of the Boeing 787 Dreamliner in Sedgwick County.
The Wichita Eagle (http://bit.ly/2h6tzzD ) reports the permit was filed last week. A Spirit spokesman says the permit is not specifically for a defense program but for current and future growth opportunities. No other details about the project were available.
The building is Spirit's Composite Manufacturing Facility, where is makes composite forward fuselages. Earlier this year, Boeing raised Spirit's monthly 787 production rate from 10 fuselages a month to 12.