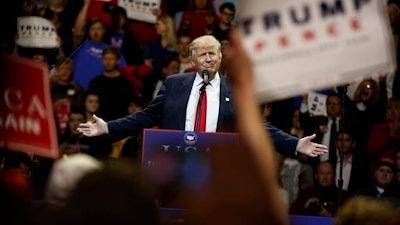 AP Photo/Evan Vucci
Donald Trump is taking on another Indiana manufacturer that has plans to let go of workers and move operations to Mexico.
Late Friday, Trump tweeted: "Rexnord of Indiana is moving to Mexico and rather viciously firing all of its 300 workers. This is happening all over our country. No more!"
Rexnord operates a bearings factory near the Carrier plant in Indianapolis, where Trump on Thursday touted a deal to save hundreds of jobs in exchange for about $7 million in state tax breaks and grants.
Trump told workers at the Carrier plant, "Companies are not going to leave the United States anymore without consequences."