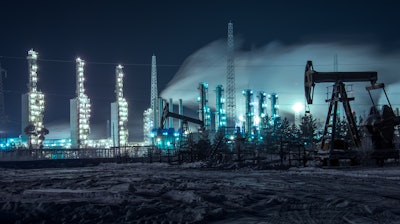 The following are excerpts from the Energy Information Administration's This Week in Petroleum report:
As of November 25, U.S. gasoline inventories reached 226.1 million barrels, a 9.3 million barrel increase from the same time last year and the highest level for this time of year since at least 1990. High gasoline crack spreads, the difference in value between a gallon of gasoline and a gallon of crude oil, have encouraged continued high utilization of U.S. refining capacity. The fall refinery maintenance season had less down-time compared with last year, helping to further drive high levels of production and inventory.
Consumption of gasoline in September set a record high for the month at 9.5 million barrels per day.
Crack spreads in the U.S. have remained relatively high despite a typical seasonal decrease. The average New York RBOB to Brent crack spread through mid-November 2016, 33 cents per gallon, is the highest dating back to at least 2009.
U.S. refinery and blender net production of finished motor gasoline was 10.3 million b/d in September, 303,000 b/d higher than the previous September.
Gasoline prices are closely linked to crude oil prices, with both relatively low compared with recent historical levels. The Cushing, Oklahoma, West Texas Intermediate (WTI) spot price on November 21 was $47.48 per barrel (b), above the November 2015 average of $42.44/b. However, this was well below the previous three-year (2013-2015) November average of $70.70/b. The price for U.S. regular gasoline was $2.15 per gallon as of November 28, up 10 cents from the same time last year. However, 2016 prices are still relatively low compared with the November average of $2.77 per gallon for the previous three years.
In addition to strong domestic gasoline demand, exports have also been high. September 2016 exports were 564,000 b/d, up 208,000 b/d over the year-ago level. The Gulf Coast (Petroleum Administration for Defense District (PADD) 3), accounted for 92 percent of total U.S. gasoline exports in September of this year. The bulk of U.S. exports go to Mexico.
As of November 28, 2016, residential heating oil prices averaged nearly $2.40 per gallon, just over one cent per gallon more than last week and almost four cents per gallon higher than last year at this time. The average wholesale heating oil price is almost $1.59 per gallon, nearly four cents per gallon more than last week and 16 cents per gallon higher than a year ago.
To view the report in its entirety, click here.