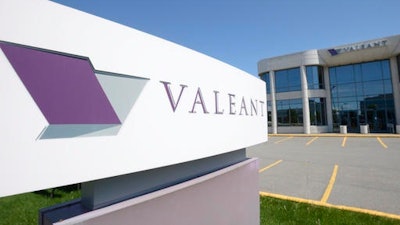 Ryan Remiorz/The Canadian Press via AP, File
Federal prosecutors are filing criminal charges against former executives of Valeant Pharmaceuticals and a mail-order pharmacy it helped to establish as the backlash against skyrocketing drug prices grows.
The U.S. Attorney's office in Manhattan on Thursday released a complaint against ex-Valeant executive Gary Tanner and Andrew Davenport, who ran the now-defunct Philidor mail-order pharmacy, outlining charges of wire fraud and conspiracy in an alleged scheme to bilk Valeant out of tens of millions of dollars.
The complaint states that Tanner and Davenport conspired to enrich themselves with Valeant funds. It alleges that Tanner was employed by Valeant to head its "access solutions team," which worked to get patients' insurers to cover brand-name Valeant medicines instead of much-cheaper generic ones.
But according to the complaint, Tanner focused on building up Philidor's business, worked at its Hatboro, Pennsylvania, offices and ultimately received a $10 million kickback from Davenport, who helped found Philidor and served as its chief executive. In exchange, Tanner allegedly facilitated transactions that brought Davenport more than $40 million.
Philidor was shut down early this year amid an investigation of irregularities in reporting of its financial dealings with Valeant.
Prosecutors were to discuss the charges and their investigation at a news conference at noon in Manhattan.
Valeant Pharmaceuticals International Inc., has been under scrutiny for aggressively jacking up prices of old drugs with little competition and for questionable accounting practices involving Philidor. Valeant is the target of more than 10 different government probes, plus multiple shareholder lawsuits. Its stock price has plunged more than 90 percent since the once fast-growing Wall Street darling came under the microscope for its business and accounting practices.
In a statement, Valeant said the company, its current executives and its former CEO and chief financial officer "have not been charged at this time."
"Valeant continues to cooperate with all relevant authorities in this matter," the statement said, noting that Tanner left the company in September 2015 and Davenport was never an employee.
Valeant, which technically is based in Canada but operates from headquarters in Bridgewater, New Jersey, sells numerous generic medicines but also brand-name ones for conditions in the fields of dermatology, gastrointestinal disorders, eye health and neurology.
In morning trading, Valeant shares fell 30 cents, or 1.7 percent, to $17.58.