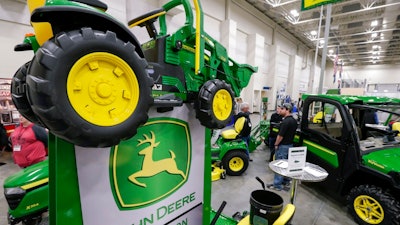 AP Photo/Nati Harnik, FIle
NEW YORK (AP) — A boost in construction equipment sales drove profit higher for Deere & Co. in the fourth quarter, but the results fell short of Wall Street expectations and pulled on shares before the opening bell Wednesday.
The maker of agricultural and construction equipment reported a 46 percent boost in profit, to $784.8 million, or $2.42 per share. Earnings, adjusted for pretax gains, came to $2.30 per share, 14 cents short of industry analyst projections, according to a survey by Zacks Investment Research.
Revenue jumped 17 percent to $9.42 billion, driven by gains from the purchase of The Wirtgen Group, a construction company, late last year. Adjusted revenue of $8.34 billion fell short of Street forecasts for $8.59 billion.
Agricultural equipment, the biggest division for Deere, reported a 3 percent boost in sales to $5.6 billion. Construction and forestry equipment sales surged 65 percent to $2.7 billion. Financial services and other revenue also rose.
There are concerns that the strong dollar and a slowdown in global growth could hurt future export sales for a wide swath of U.S. manufacturers, like Deere. The company said Wednesday that the strong dollar is could shave about 2 percent off of equipment sales for the year.
Then there is the impact of President Donald Trump's get-tough trade policies, which include higher tariffs on aluminum and steel along with penalty tariffs on a range of Chinese goods. China and other countries have already retaliated with penalty tariffs on American products.
For the year, Deere reported profit of $2.37 billion, or $7.24 per share. Revenue was reported as $33.35 billion.
The company expects a 7 percent boost in revenue in 2019, and profit of about $3.6 billion. It also expects continued growth in the U.S. housing market, along with economic growth worldwide, which would help to drive revenue at its construction unit.
There have been tremors in the home construction sector, which may also be driving some investors away.
The Commerce Department reported this week that while home construction improved a slight 1.5 percent in October, but in a troubling sign, ground breakings for single-family houses fell. That can serve as an indicator of things to come.
Housing has stumbled in recent months as mortgage rates have climbed, putting the ability to buy a home or move up to a nicer property out of reach for more Americans. A sharp increase in mortgage rates has led to a marked decline in home construction since May, such that ground breakings have fallen 2.6 percent over the past 12 months.
Deere shares have fallen 11 percent since the beginning of the year, while the Standard & Poor's 500 index has decreased 1 percent. The stock has risen 1 percent in the last 12 months.