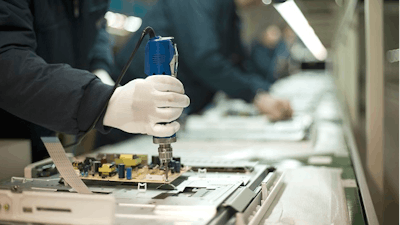 WASHINGTON (AP) — U.S. manufacturing contracted last month for the first time since February, as new orders and output plummeted and factories cut jobs.
The Institute for Supply Management said Thursday that its manufacturing index dropped to 49.4 in August from 52.6 in July. Any reading below 50 signals contraction.
The report suggests that manufacturers continue to struggle as businesses spend less on machinery, computers and other large equipment. Auto sales have also leveled off this year after reaching a record level in 2015.
Still, the magnitude of the decline surprised many economists, since other recent measures of factory output, including surveys of manufacturers in the Philadephia region, improved this month.
"The decline is hard to square with the signals coming from the timelier regional surveys," Steve Murphy, U.S. economist for Capital Economics, said in a research note. "The U.S. downturn also jars with the evidence of an improvement in global manufacturing, particularly in China."
A separate survey of China's manufacturers found that factory activity in that country expanded at the fastest pace in nearly two years. European manufacturers also reported growth in August, though at a slightly weaker pace than the previous month.
That suggests that a weak global economy, which had cut into U.S. factories' export sales, is fading as a headwind for U.S. manufacturers. A strong dollar had also lowered overseas sales and made imports cheaper.
But the ISM's survey found that export orders increased in August at the same pace as the previous month.
A measure of employment fell to 48.3, the ISM said, its second straight month of decline. That means manufacturers are still laying off workers.
Orders for new goods fell to the lowest level since December, a sign the weakness may persist. And a gauge of production plunged to the lowest level in four years.
The weak report could make it more likely that the Federal Reserve will delay a hike in short-term interest rates at its next meeting later this month, economists said. Many analysts still expect an increase in December.
The drop in orders likely reflects cutbacks by U.S. businesses and consumers, which could prove temporary. Americans are more confident in the economy, according to the Conference Board, and are spending more.
"I don't see any reason why it wouldn't tick back up," said Bradley Holcomb, chair of the ISM's survey committee. "It's just not consistent with where we've been for the past five months."
Other reports on manufacturing have been mostly positive. In July, factory output jumped 0.5 percent, the most in a year, according to the Federal Reserve.
Orders for long-lasting manufactured goods, which includes industrial equipment, cars and appliances, also increased in July, the Commerce Department said. A category of orders that excludes volatile items such as aircraft and tracks business investment rose by the most in six months.
Even so, manufacturing firms have been slowly cutting jobs, shedding 31,000 in the past year.
The Institute for Supply Management is a trade group of purchasing managers. It surveys about 300 manufacturers every month.