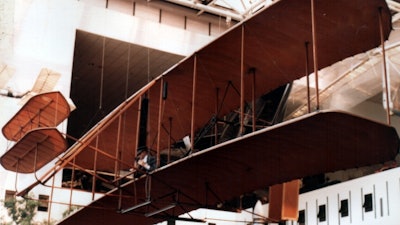 Wikipedia
DAYTON, Ohio (AP) — A group that preserves historically significant aviation sites is trying to buy the Wright brothers' former factory buildings in Ohio.
The Dayton Daily News reports (https://bit.ly/2bMZhjz ) the National Aviation Heritage Alliance is in negotiations with the private entity that owns the property in Dayton and the surrounding land.
Orville and Wilbur Wright built the airplane production buildings in 1910 and 1911. More than 100 planes were built there.
The aviation group says it plans to sell some land to the Dayton Metro Library for a new branch.
The group wants to find a developer to bring in advanced manufacturing. It also wants to sell two buildings to the National Park Service for inclusion in the Dayton Aviation Heritage National Historical Park.