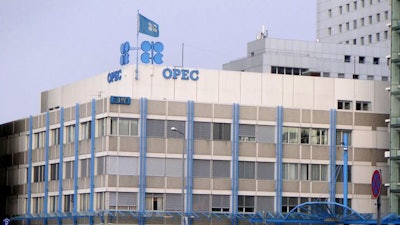 According to information in the U.S. Energy Information Administration's Short-Term Energy OutlookNote, members of the Organization of the Petroleum Exporting Countries (OPEC) earned $404 billion in net oil export revenue in 2015 - a 46 percent decline from the $753 billion earned in 2014. Although these net export earnings include Iran's revenues, the net export revenue is not adjusted for possible price discounts that Iran may have offered its customers between late 2011 and January 2016, when nuclear-related sanctions targeting Iran's oil sales were in place.
OPEC members' net oil export revenue has fallen as crude oil prices have declined. The monthly average Brent spot price dropped from $112 per barrel (b) in June 2014 to $38/b in December 2015. Based on EIA price forecasts, which are subject to a wide range of uncertainty, OPEC revenue is expected to fall to $341 billion in 2016 before rising to $427 billion in 2017.
In inflation-adjusted terms, OPEC net oil export revenue totaled $606 per person in 2015, down 83 percent from the 1980 level of $3,500 per person.
The effects of recent declines in net oil export revenue on the economies of each OPEC member state depend on the importance of oil export revenues and the existence of other financial assets. Petroleum exports by OPEC members accounted for between 5 percent (Indonesia) and 99 percent (Iraq) of total export revenues in 2015.
Generally, countries with sizeable financial assets, such as the Persian Gulf States (Saudi Arabia, Kuwait, Qatar, and the United Arab Emirates), are affected to a lesser degree than other oil-producing countries, such as Iraq, Nigeria, and Venezuela, that do not have large financial reserves.
Although declining crude oil prices have been the main driver behind lower OPEC revenue since mid-2014, unplanned production outages have also contributed to lower export earnings. Some of these outages are the result of political factors, such as the sanctions-related production shut-ins in Iran between 2011 and early 2016, when roughly 0.8 million barrels per day (b/d) remained off the market.
In Venezuela, crude oil production has declined sharply since the end of 2015, as oil service companies have largely stopped work in response to a lack of payment by state-owned Petroleos de Venezuela S.A., and oil production may continue to decline in the near term. Other unplanned outages have been related to armed conflict and militant activity in countries such as Libya and Nigeria.
Libya has struggled to maintain crude oil production and exports since the fall of the Qaddafi regime in 2011, and more recently, opposing factions have clashed for control of the country's oil export terminals. The resulting lack of available oil export outlets has necessitated that most of the country's production capacity remain shut in. In Nigeria, continuing militant attacks since the start of 2016 have targeted oil and natural gas infrastructure, resulting in more shut-in production.
More information about OPEC revenue and unplanned outages in OPEC member countries is available in This Week in Petroleum.
Lejla Villar was a principle contributor.