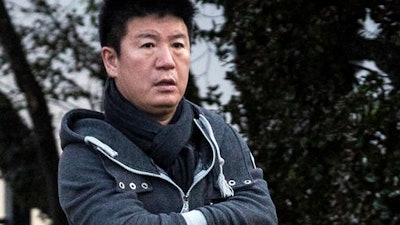 Greg Bowker/New Zealand Herald via AP
WELLINGTON, New Zealand (AP) — A former pharmaceutical executive who Chinese authorities accuse of embezzling money and fleeing to New Zealand has settled his case for $31 million, New Zealand police said Tuesday, in a deal that represents an unusual level of cooperation between the two countries.
William Yan settled without acknowledging any criminal or civil liability, the police said in a statement. Police had previously seized homes, luxury cars including a Porsche and a Maserati, and stocks from the 47-year-old Yan, his wife and two associates, the statement said.
Police said they would release those items once Yan and the others handed over 43 million New Zealand dollars ($31 million). Police said the money would then be split between the New Zealand and Chinese governments, with the amount each would get still to be determined.
New Zealand authorities refused to answer further questions about the case, including whether China would attempt to extradite Yan. China's embassy in Wellington did not immediately respond to questions.
The settlement is the largest of its kind ever made in New Zealand, and the first for crimes alleged to have occurred in China. But critics say it raises questions about why Yan isn't facing charges and how much New Zealand is acquiescing to China's demands.
China represents a crucial market for New Zealand's agricultural exports, which include kiwifruit and dairy products.
One of Yan's Auckland-based lawyers, Simon Lance, said in an email that his client "does not accept that he is guilty of embezzling money in China."
Another one of the lawyers, Marc Corlett, said in a statement that the settlement was a "commercial compromise" that would allow Yan to recover his seized assets and "return his focus to his business activities in New Zealand and elsewhere."
New Zealand Prime Minister John Key said the police handle investigations independently and it is up to them to determine whether it is better to settle a case or pursue charges.
But opposition lawmaker Winston Peters said the way the case was handled was demeaning for New Zealand. "You know, we're dancing on a pinhead for China in so many areas," he said.
As part of an operation it calls Sky Net, China last year issued a list of its 100 most-wanted economic fugitives, who it accuses of absconding overseas with ill-gotten gains. Under the name Yan Yongming, Yan made the list at No. 5.
The listing said Yan is wanted by police in the northeast Chinese city of Tonghua, where he last worked as chairman of a pharmaceutical company, the Tonghua Golden Horse Group. It lists three different passport numbers and three national identification numbers for Yan, who it also lists under the name Liu Yangming.
China said between 11 and 20 of the alleged economic fugitives had fled to New Zealand, making it the third-most popular destination behind the U.S. and Canada.