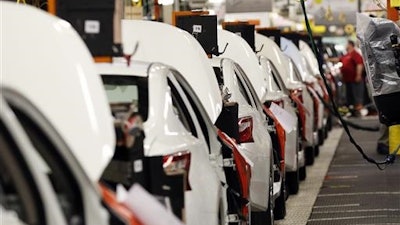 AP Photo/Rogelio V. Solis
U.S. industrial production rose in June by the largest amount in 10 months, led by a strong rebound in auto production.
The Federal Reserve says industrial production increased 0.6 percent last month, the best showing since a similar gain last August. In May industrial production had fallen 0.3 percent.
The key manufacturing sector posted a 0.4 percent rise, reflecting a jump in the output of motor vehicles and parts, which rose by 5.9 percent after having fallen by 4.3 percent in May.
Output at the nation's utilities rose 2.4 percent as electricity production increased as warmer weather than normal boosted demand for air conditioning. Output in the mining sector edged up a tiny 0.2 percent, the second small increase after eight straight monthly declines.
The 0.2 percent June gain in industrial production was stronger than the 0.2 percent increase that many economists had been forecasting.
Jennifer Lee, senior economist at BMO Capital Markets, said the June report offered a glimmer of hope for better days ahead for industrial production.
"This latest broad-based gain hints that we're starting to see some upward momentum," she wrote in a research note.
Overall capacity utilization rose to 75.4 percent in June, compared to 74.9 percent in May. At the depths of the Great Recession in 2009, U.S. industry was operating at just 66.7 percent of capacity. Even after seven years of an economic expansion, the 75.4 percent operating rate in June was below the 80 percent average from 1972 through 2015.
Both manufacturing and mining have struggled over the past year. Mining, which includes oil production, has been battered by a steep drop in oil prices which triggered sharp cutbacks in exploration and production. Manufacturers have struggled with falling export sales, reflecting global economic weakness and a strong dollar, which had made U.S. goods more expensive overseas.
Despite the rise in June, industrial production has fallen for three consecutive quarters, dropping at an annual rate of 1 percent in the April-June period after declining at a 1.8 percent rate in the first quarter.
There are now worries about what the June 23 decision by British voters to leave the European Union will do to global confidence. But there have been some hopeful signs that manufacturing is beginning to stabilize.
The Institute for Supply Management reported that its closely watched index of manufacturing activity expanded for a fourth consecutive month in June. The index rose to a reading of 53.2, up from 51.3 in May. Anything above 50 signals growth.
The ISM index had stayed below 50 from October through February before returning to expansion territory in March.