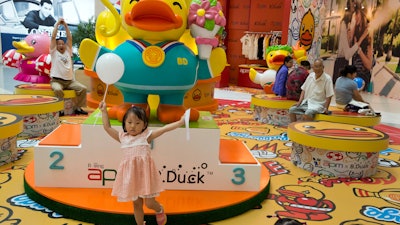 AP Photo/Ng Han Guan
HONG KONG (AP) — China's economic growth held steady in the most recent quarter, suggesting policies meant to counter the slowdown in the world's second biggest economy are paying off for the moment.
The economy expanded at a 6.7 percent annual pace in the April-June period compared with a year earlier, according to data released Friday that generally matched expectations.
That pace matched the first quarter's level, which was already the lowest since early 2009, when growth slumped to 6.2 percent amid the turmoil of the global financial crisis. China's economy posted its slowest annual growth in a quarter century of 6.9 percent last year and is expected to slow further this year, with officials targeting a 6.5 percent-7 percent expansion.
Growth is slowing as China's communist leaders seek to wean the economy off manufacturing, exports and wasteful and inefficient spending on infrastructure. They want growth to be centered on self-sustaining services and private consumption, but the transition is proving to be tricky.
Officials in Beijing have responded to the unexpectedly sharp downturn of the past few years by rolling out their usual policy tools. Policymakers have held interest rates at record lows since October and loosened bank restrictions. The government has also ramped up spending on public infrastructure projects.
"The national economy has achieved moderate but steady and sound development, which has laid down a solid foundation for achieving the annual economic development target," National Bureau of Statistics spokesman Sheng Laiyun said at a press briefing. "However we must be aware that the domestic and external conditions are still complicated and severe and the downward economic pressure remains."
Other data released by the statistics agency painted a mixed picture.
Retail sales accelerated in June, rising 10.6 percent from a year earlier, while industrial production expanded at a faster rate of 6.2 percent for the month. However, fixed asset investment for the January-June period grew 9 percent, less than the 9.4 percent rate in the first five months of the year.
Analysts said that while government policies have helped stabilize the economy, the effect might not last.
"With stimulus still feeding through, growth is more likely to accelerate than slow in the next few quarters," Daniel Martin and Mark Williams of Capital Economics said in a report. "However, as worries about the outlook have diminished, so has the likelihood of further stimulus. Any turnaround would therefore be short-lived and, with structural issues still unresolved, a renewed slowdown over the next couple of years is looking increasingly likely."