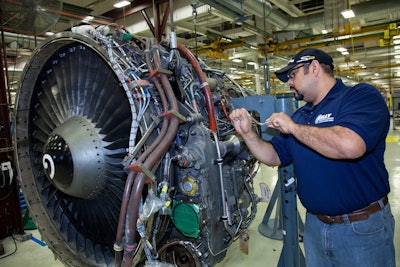 Lockheed Martin
Frontier Airlines has awarded Lockheed Martin Commercial Engine Solutions (LMCES) an eight-year, exclusive contract to perform engine maintenance, repair, and overhaul on CFM56-5 engines for their Airbus A319s and A320ceos.
Under the new agreement, services will be performed at the LMCES Montreal facility with initial delivery orders beginning in the first quarter 2016 and continuing through 2023.
The facility has a long track record of excellent performance on CFM56-5 engines.
Before selecting LMCES as their CFM56-5 MRO provider, Frontier Airlines sent several engines to the Montreal facility for repair and the performance results were among the reasons Frontier selected LMCES.
Charles Bouchard, chief executive of Lockheed Martin Canada, said, "I am extremely proud of the growth that Commercial Engines Solutions has experienced in Montreal over the past two years. This contract is great news for the job stability that it creates in the local aerospace industry in the Montréal Aerospace cluster and a testament to the highly skilled technicians who expertly perform such complex maintenance in this competitive market."
The LMCES Montreal facility provides aircraft MRO and test as well as parts and component repairs for five different commercial engines that power the A318/319/320/321, 737-3/4/5/6/7/8/900, 707, DC-8, and CRJ-1/2/400.