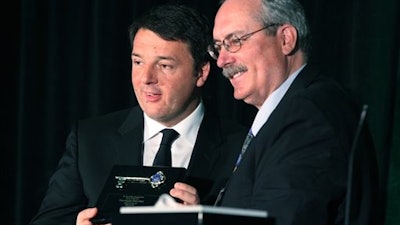 AP Photo/Cathleen Allison
STILLWATER, Nev. (AP) — Nevada's governor, the premier of Italy and the director of the U.S. Energy Department's renewable energy labs on Tuesday formally dedicated the final piece of the only hybrid power plant in the world producing renewable energy by combining geothermal with two kinds of solar power.
The Stillwater Hybrid Power Plant built by a U.S. subsidiary of an Italian company produces energy more efficiently through a complementary operation that relies on solar panels and a new solar thermal operation on the sunniest and hottest days when geothermal production is lower than average, company officials said.
"The lessons we are learning at this advanced geothermal-solar facility will be key to the development of other hybrid plants throughout the world," said Francesco Starace, CEO of the Rome-based Enel.
Marin Keller, director of the National Renewable Energy Laboratory, said the cutting-edge technology is one of the "underpinnings of the future of clean energy." He said it will help the U.S. government meet commitments it outlined at climate talks in Paris in November to "dramatically accelerate the pace of energy technology innovation."
Enel Green Power North America Inc. built the original geothermal plant between the rural farming community of Fallon and the Stillwater National Wildlife Refuge 75 miles east of Reno in 2009. The photovoltaic component powered by solar panels was added in 2012. The new solar thermal system, which produces energy from heat, rather than light, began operation last year.
Gov. Brian Sandoval said it's fitting that the "one-of-a-kind-on-the-planet" facility was built in Nevada, the nation's leader in per-capita production of both geothermal and solar power. Only California produces more geothermal energy overall.
"What oil is to Texas, geothermal is to Nevada," said Sen. Dean Heller, R-Nev.
Italy was the site of the first geothermal experiment a century ago that established the potential to harness renewable energy produced by the steam from hot water beneath the ground.
"The future of energy is technology," Italian Premier Matteo Renzi said at Tuesday's dedication and ribbon-cutting, one of four stops he plans during a U.S. tour that includes visits to Chicago, Boston and Washington. "If we invest in technology, we can create a different world, a new world."