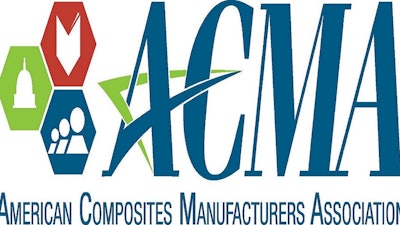 A 2015 study on respirable crystalline silica, completed for the American Composites Manufacturers Association (ACMA) by an expert consultant and under the guidance of the ACMA Government Affairs Committee, can help composites manufacturers comply with the Occupational Safety and Health Administration's (OSHA) Final Rule for Occupational Exposure to Respirable Crystalline Silica (RCS) published in the March 25 Federal Register.
The updated OSHA standard will require composites manufacturers to comply with an eight-hour workplace exposure limit for RCS of 50 micrograms per cubic meter of air, and an action level requiring certain preventative measures of 25 micrograms per cubic meter. OSHA says compliance with the new standard will greatly improve workplace safety for millions of workers in the United States. Employers are required to comply with the standard by June 23, 2018.
ACMA's study could serve as a tool to help understand this new standard. For more information and the ruling or ACMA's study, member companies can obtain information on the association's website.
The American Composites Manufacturers Association (ACMA) represents over 3,000 companies in the composites industry in North America. ACMA is recognized as the premier provider of composites industry educational resources through its CAMX conference and trade show, conferences, and Certified Composites Technician (CCT®) program. More information is available at acmanet.org.