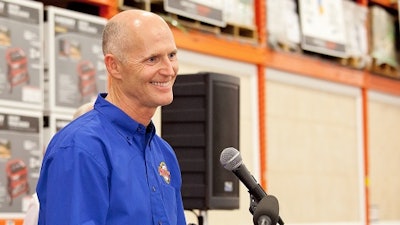 Wikimedia
FL-based Arthrex, an orthopedic medical device company, will be adding 350 new jobs to its manufacturing facility in Ave Maria, FL.
Governor Rick Scott announced the hiring initiative at a Thursday visit to the company's headquarters in Naples, FL. Besides adding the positions, Arthrex is also planning an addition in Ave Maria, resulting in 218,000 square feet of manufacturing space.
"Arthrex is pleased to further increase its economic diversification investments in Southwest Florida of over $47 million in 2016 with the continued expansion of Arthrex Medical Education and two new Arthrex Manufacturing East facilities in Ave Maria," NewsPress.com quoted company founder and CEO Reinhold Schmieding as saying.
In a statement, Gov. Scott credited Florida's business climate and stressed future tax policies favoring businesses. "Arthrex is a growing Florida company and hired 260 new employees in just the past year alone. We must make sure Florida has a diverse economy by cutting $1 billion in taxes and creating the $250 Enterprise Florida Fund so companies like Arthrex can expand in Florida."
Arthrex has pioneered the field of arthroscopy and developed more than 9,500 innovative products and surgical procedures to advance minimally invasive orthopaedics worldwide, and currently employs over 2,000 Florida residents.