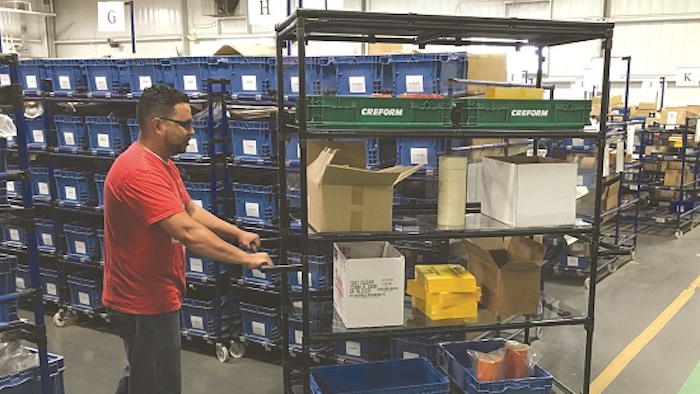 In the latest application using Creform (Greer, SC) products, the company's picking cart is helping a warehouse restock its retail clothing store customer locations. Key to the development of the picking cart was to ensure the form, fit and function of the structure to satisfy the warehouse's diverse needs.
The cart features:
Four clear plastic horizontal shelves each positioned for easy access.

 

Not only is easy access an attribute but the clear plastic affords visibility to all levels of the cart, making it user-friendly for associates.
A design that helps ensure that the 'picked' clothes stay clean. The cart is enclosed on three sides with clear plastic and even features a roof panel to further ensure the clothes cleanliness.
A lightweight construction that maintains the strength and durability required of a cart that is in operation all day, every day. It is designed to hold up to 500 lb.
A small footprint, allowing for easy navigation and turning in aisles of the warehouse.
Six 4" dia. urethane casters, with the two fixed casters at the center providing excellent steering control, while the four outer swivel casters provide added stability. A simple C-shaped handle on either side of the cart provides the user with comfortable and ergonomic control of the cart.

 

The handles and shelves can be repositioned with a simple hex wrench.
There are many customization options, such as shelf-position label holders, supply bins, towing hitches and scanner gun holders.
www.creform.com; 800-839-8823