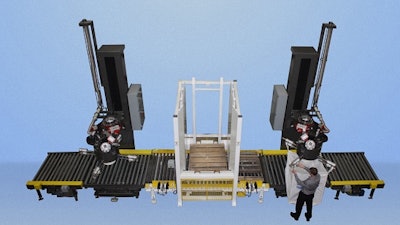 Material Transfer & Storage, Inc. (Allegan, MI) introduces the Material Master Powerfill Filling System with Gain-In-Weight Scale System. After bag connection and inflation, this high output filling system allows the bulk bag to be filled by weight to a programmed set point. Once the fill cycle is complete, the bag inlet spout and straps release, the fill head raises, and the filled bag is discharged with a powered roller conveyor. The heavy-duty bulk bag densification system settles product for enhanced stability. Other features include:
The Easy-Load rotary bag hanger system, which brings all bag strap connection points directly in front of the operator for quick and easy access.
The Power-Sweep system, which extends bag fill carriage 24" towards operator for reach-free bag attachment.
Allen-Bradley Control-Logix PLC controls, providing easy access to system status, recipes and operational parameters.
Custom designs for your application requirements.
www.materialtransfer.com; 800-836-7068