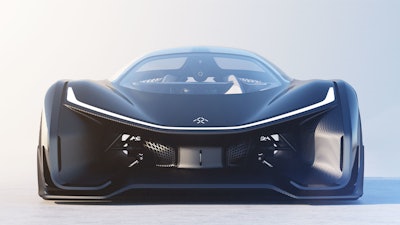 LAS VEGAS (AP) — Electric carmaker Faraday Future said Monday it will move heavy equipment and a handful of employees early next month to North Las Vegas, where the upstart company is planning a three million-square-foot manufacturing plant. The California-based company said it will soon set up construction trailers and fill dust-reducing water tankers at Apex Industrial Park. Grading is expected to begin in late June.
Faraday is "excited to kick off these next steps at our Nevada facility, and bring our vision of future mobility closer to reality," the company said in a statement. Faraday announced it will work with the multinational, Los Angeles-based design firm AECOM for architecture, design and construction of the facility.
Six workers will be moved in June to a new office located in the North Las Vegas City Hall building, with a plan to have 30 employees there by the end of the year. Faraday unveiled a sleek, futuristic concept car in January, but critics have wondered whether the company will make good on its vow to bring 4,500 direct jobs and 9,000 indirect jobs to Nevada.
State Treasurer Dan Schwartz has raised concerns about the financial footing of the main Chinese investor backing Faraday, saying trade was halted for months on shares of the businessman's primary company. State lawmakers approved a deal in December that offers up to $225 million in tax incentives to Faraday. But they structured the agreement so the money is held back until the company meets certain investment and production benchmarks.
The deal also calls for $120 million in road, rail and water infrastructure investments aimed at helping Faraday and other companies set up shop at the relatively undeveloped industrial park. Nevada economic development officials are moving forward on other elements of the deal approved by the Legislature, including a program aimed at teaching advanced manufacturing skills to future Faraday factory workers.
The board of the Governor's Office of Economic Development voted last week to authorize $500,000 for the program spearheaded by the College of Southern Nevada. The money will mostly go to training devices so students can practice operating robotic, pneumatic and hydraulic machinery.
Faraday jobs are expected to pay entry-level workers more than $20 an hour.