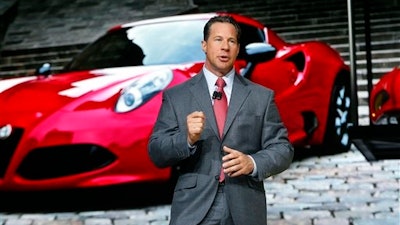 AP Photo/Paul Sancya, File
MILAN (AP) — Fiat Chrysler Automobiles on Tuesday announced that its U.S. sales chief will take over the premium Italian Alfa Romeo and Maserati brands.
The move comes as Fiat Chrysler struggles to relaunch the brands key to its global strategy.
The Italian-American automaker announced Tuesday that Reid Bigland will replace Harald Wester, who will retain his role as the automaker's chief technology officer. Wester has worked closely with CEO Sergio Marchionne since arriving at Fiat in 2004, taking over Maserati in 2008 and Alfa Romeo in 2010.
Bigland will remain head of U.S. sales and CEO of FCA Canada.
Marchionne thanked Wester for "establishing a sound technical framework for our two premium brands," and said it would be Bigland's job to steer the brands toward their "global commercial expansion." He cited Bigland's success in growing sales and market share in the United States and Canada over the past seven years.
The expansion of Alfa Romeo and Maserati are a key element of Marchionne's business plan, including the re-launch of production in Italy for the export market. But he delayed the rollout of new Alfa models due to a weak Chinese market, and dropped an earlier goal to more than quadruple sales to 400,000.
The company just started sales earlier this month of the Giulia luxury sedan unveiled nearly a year ago.