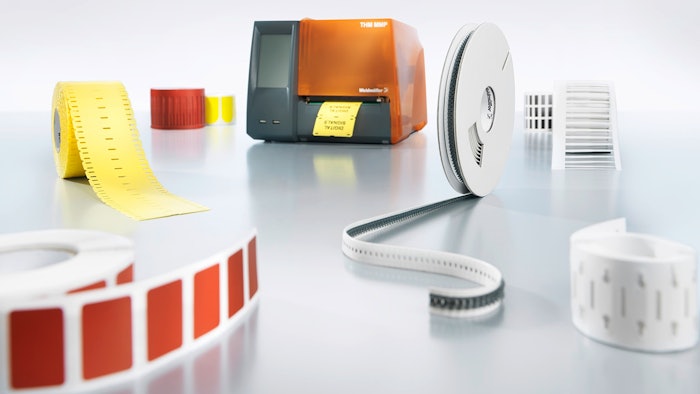 Weidmuller (Richmond, VA) introduces the new MultiMark, a thermal transfer printer marking system with the capability of meeting a full range of customers' labelling requirements for control cabinets or equipment build settings. The MultiMark printer marking system consists of the compact and modular THM MultiMark thermal transfer printer and an innovative line of reel formatted MultiMark markers to fit onto modular terminal blocks, wire and cable, and equipment. Used with Weidmuller's M-Print PRO printing software, the THM MultiMark Printer gives the user the capability to produce virtually any type of alpha-numeric and symbol identification. Additional features include:
Versatility: It prints markers and labels from the MultiMark marker family as well as continuous materials such as textile/polyester adhesive labels, heat-shrink wire/cable sleeves and PLC-field panel adapter labels.
An intuitive touch display and easy-to-read status indicators – in 22 languages – making printer operation simple.
A weight of just 7 pounds, making it highly portable. It can be used for on-site and off-site custom marker production.
150 new marking products, which can be used to cover virtually all identification requirements in a control cabinet or equipment build setting.

 

A rigid plastic base, ensuring that the marker can be reliably snapped into place, and an easy-to-grip elastic outer material, making installation easier.
www.weidmuller.com; 800-849-9343