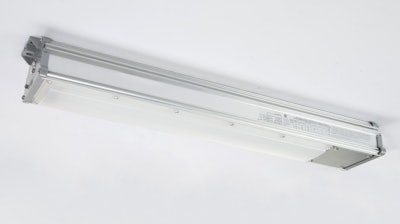 Larson Electronics (Kemp, TX) has announced the release of a 25 watt integrated LED light fixture approved for hazardous locations. The HAL-32-60W-ITG-LED low profile explosion proof linear fixture has a T5 temperature rating and is approved for Class 1 Division 1 areas. Features include:
An impact and vibration resistant polycarbonate lens with a frosted finish to reduce glare or a clear finish to maximize light output.
A low profile copper-free extruded aluminum body designed to withstand hazardous and harsh conditions.

A single wiring access plate, making for easy access to the driver lead and a high temperature rated silicone gasket between the lens and the housing, providing NEMA 4X and IP66 rated sealing.
The ability to generate almost double the lumens of a standard fluorescent fixture, providing crisp white light while producing less heat and consuming less energy.
www.larsonelectronics.com; 800-369-6671