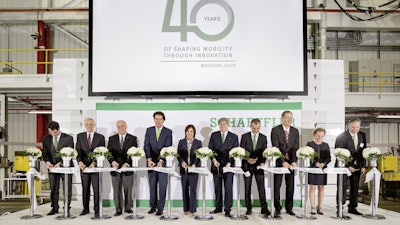 Schaeffler
Automotive and industrial supplier, Schaeffler Group has invested nearly $60 million in the creation of new production areas, a shipping center, and office space at them company's location in northeast Ohio. The Wooster, OH facility now employs nearly 2,000 employees, and is the largest employer in the town.
Starting in 2018, Schaeffler will start to manufacture hybrid modules for a large American automobile manufacturer in the expanded manufacturing area with approximately 8,900 square meters of space.
In addition, employees at the location are already working on the future production of the electric axle.
The company recently invested $36.5 million in the expansion of its Fort Mill plant in South Carolina.
According to Marc McGrath, President of Automotive Americas, Schaeffler's automotive business has almost doubled since 2007.
In addition to producing hybrid modules, the expanded capacities at the Wooster plant will help the company increase production of automatic transmissions, torque converters, and torque converter lockup clutches.
Schaeffler has been operating in Ohio for nearly 40 years when it started as a small team of six employees who assembled clutches.