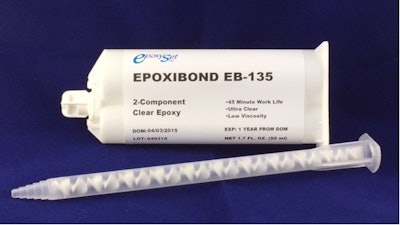 EpoxySet Inc. (Lincoln, RI) will be exhibiting in Booth #862 at MD&M West scheduled February 7-9 2016 in the Anaheim Convention Center, Anaheim CA. Featured product include:
High performance formulated adhesives sealants and potting materials that are approved and certified to USP Class VI and ISO-10993-5.

A wide range of materials usable at temperatures from 4°K to 250°C. Many of these materials will withstand harsh environments including autoclave, ETO and Plasma treatments.

These Bio-Compatible materials are used extensively in medical device assembly including the manufacture of Endoscopes, Catheters, Ultrasonic probes, Dental Equipment and MRIs.
EpoxySet will also be presenting the SetWORX line of high performance materials. Epoxies and Urethanes developed with no BPA, tin or phthalates to be safer and non-hazardous for shipping.
www.Epoxyset.com; 401-726-4500