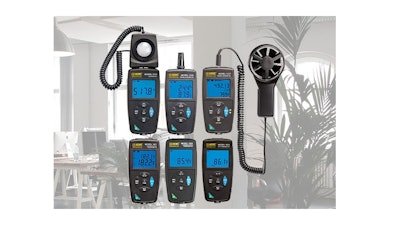 New environmental testers from AEMC Instruments (Foxborough, MA) cover a wide variety of applications and are compact, lightweight and simple-to-use. All measurements are accessible on the instrument's front panel, simply by pressing one button. Battery life is up to 1,000 hours in portable mode, and three years in record mode. Additional features include:
A data logging function.
User programmability.
Available min, max and average measurements.
Multiple mounting methods.
USB and Bluetooth communications.
Blue electroluminescent backlit display.
www.aemc.com; 800-343-1391