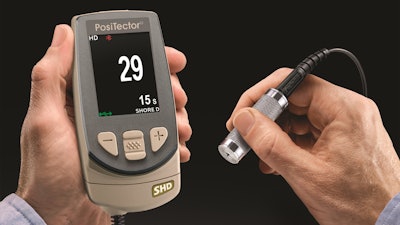 DeFelsko Corporation (Ogdensburg, NY) has introduced the new PosiTector SHD Shore Hardness Durometer for measuring the indentation hardness of non-metallic materials such as vulcanized (thermoset) rubber, elastomers and polymers. The handheld PosiTector SHD is available in two models for different hardness ranges – Shore A and Shore D. Features include:
A digital display.

A user-adjustable measurement time with onscreen countdown.

An "Auto Ignore" mode that disregards readings below 20 and above 90 to comply with international standards.

An internal memory and the ability to continually display statistics including average, standard deviation, min/max hardness and the number of readings while measuring.

Compatibility with the PosiSoft suite of software solutions for viewing, analyzing and reporting durometer data.
Advanced models include increased memory storage, live graphing of measurement data, built-in WiFi wireless technology and an auto-pairing Bluetooth BLE connection to connect PosiTector Advanced instruments to your iOS or Android smart device.
www.defelsko.com/shd/shore-hardness-durometer.htm; 315-393-4450