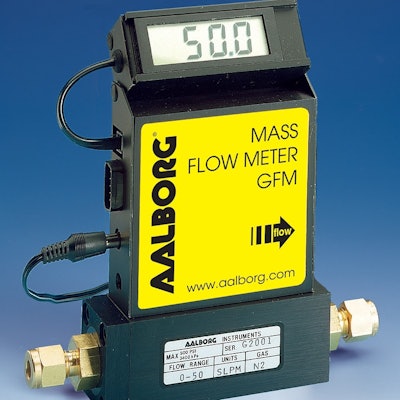 Aalborg
Aalborg Instruments (Orangeburg, NY) has introduced upgraded Mass Flow GFM Meters and GFC Controllers designed to read (GFM) or set (GFC) gas flow rates. Compact and self-contained, both product lines offer instrumentation grade ±1% accuracy for models up to 100 liters. Features include:
An aluminum and brass construction for non-corrosive gases, 316 stainless steel for corrosive applications.
Outside temperatures do not affect the units or the flow
12-26 VDC universal power supply.
Serviceability — a drop-in a sensor replacement.
Ease of operation.
Additional 10% linearizer point added.  
4-20 mA to 0-5 VDC output signals to improve accuracy.
Manufactured with no left or right box.
A totalizer option.
Applicability in flow measurement/control, environment, life sciences, R&D, food/beverage, pharmacology, and gas sampling.
For more information, visit www.aalborg.com; or call 845-770-3000.