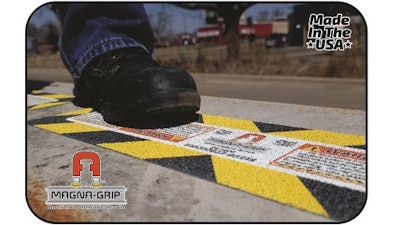 KALON Direct (Holmen, WI) has announced the release of its latest product, MAGNA-GRIP. This patent-pending magnetic non-skid safety pad is repositionable, removable and reusable, making it a cost-effective and convenient solution that can be used in various workplaces and any steel structure that may benefit from having a temporary non-skid working surface.
MAGNA-GRIP is easy-to-position and can be effortlessly removed and reused repeatedly, adapting to the varying needs of different workplaces and job sites. This flexible feature provides an extra level of reassurance, which allows for increased overall employee productivity.
Each 10-pack kit includes high traction, high strength magnetic pads in a deluxe zippered canvas carrying case with carabiner clips in either 12" x 12" or 6" x 24" size, making it easy to transport and store.