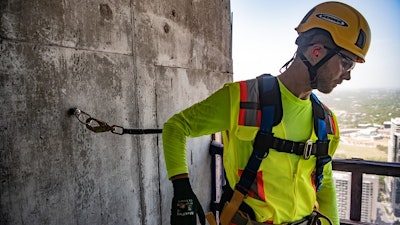 Werner (Itasca, IL) announces the new Werner R3 Concrete Anchor, a new addition to the company's comprehensive fall protection portfolio. Designed for those professionals working at height who need to trust a safe, secure and easy-to install anchor, the R3 Concrete Anchor provides a strong connection point while working on concrete structures. The one-hand operation allows for both easy installation and removal to provide the simplicity, speed and security pros need three hundred feet above the ground. The Werner R3 Concrete Anchor features multiple product attributes, including:
Rapid install and removal: Provides a simple, safe and secure one-hand operation with push to stop installation and quick release button for removability. The R3 Concrete Anchor never requires a tool for removal.

Built rigid to last: A rigid stainless steel tri-wedge design and diamond hard carbon coating provides incredible durability and corrosion-resistant performance in harsh environments.

Reusable for the long haul: The product is cycle tested up to 5,000 uses and designed to work for years in the toughest of conditions.

Omni-directional concrete anchor: The concrete anchor can swivel and hinge in any direction to provide flexibility and help mitigate risks on the construction site.

Tested to the highest of industry standards: The new R3 concrete anchor is ANSI certified and OSHA compliant.