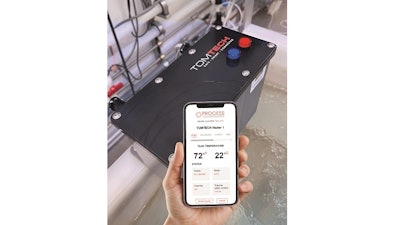 Process Technology (Willoughby, OH) delivers the future of immersion heating ease and safety with TOMTECH.
Leveraging the power of IoT, TOMTECH is a heating system that operates autonomously without external controls in an easy set-and-forget mode. "Imagine real-time tank monitoring at your fingertips from any smart device," says Phil Bearden, Director of New Product Development. "Using your device, each heater can be programmed and set up to run automatically, sending immediate email alerts of undesirable conditions. We've also designed multiple redundant layers of safety to ensure heaters won't operate if any safety system fails or is bypassed. Using the power of SOC, Wi-Fi connectivity, and proprietary firmware that we developed for the Surface Finishing Industry, which has unique safety challenges and operational needs, we have brought a new level of control and monitoring."
Proprietary IoT technology makes TOMTECH a feature-rich, easy-to-use solution for companies that are invested or want to invest in Smart Manufacturing (Manufacturing 4.0) to increase uptime, improve quality, and lower the total cost of ownership with assured safety.
www.processtechnology.com, SUR/FIN booth #101