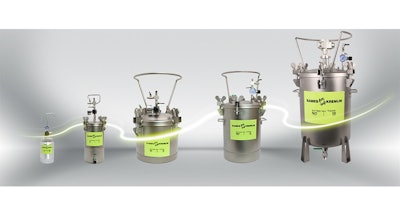 SAMES KREMLIN (Plymouth, MI) has announced the release of the new Airspray Tanks. The new Airspray Tanks offer multiple solutions to match a variety of needs, including:
Capacity from 2L to 50L.
Maximum pressure from 3.5 Bar to 7.0 Bar.
Material:

Aluminum, carbon steel, or stainless steel.
Bottom or top output.
With or without agitator.
The new Airspray tanks are all CE, ASME, and ATEX certified. Partner the new FPro Manual Airspray Spray Gun with the new Airspray tanks for a reliable and complete solution. The simple and reliable technology of the Airspray tanks are nearly maintenance free.
www.sames-kremlin.com; 800-573-5554