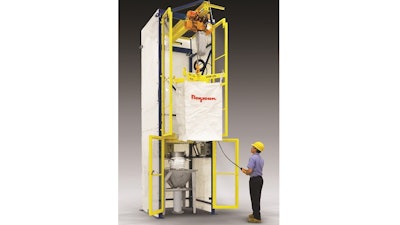 A new BULK-OUT Model BFC Bulk Bag Discharger from Flexicon (Bethlehem, PA) features an enclosure to contain errant dust escaping through the seams or fabric of bulk bags when working with unlined bags. Intended for applications in which trace amounts of dust cannot be tolerated or when dusty materials leak through the bag itself, the enclosure works in concert with the discharger's dust-tight bag spout interface and expands the ability of the discharger to contain dust from all areas of the bag. Specifically:
White polymer panels enclose the sides, rear and top of the frame, while clear panels on four hinged access doors allow monitoring of the discharging process.
A port on the rear panel allows venting of the enclosure to a centralized dust collection system.
To maintain dust control at the bag spout, a manual SPOUT-LOCK clamp ring positioned atop a pneumatically actuated TELE-TUBE telescoping tube enables an operator to make a quick, dust-tight connection between the bag spout and hopper, and to automatically elongate the bag as it empties to promote flow and evacuation.
The telescoping tube raises the clamp ring assembly that seals the clean side of the bag spout to the clean side of the telescoping tube, then lowers until the bag spout is pulled taut. Once the spout is untied, the telescoping assembly exerts continual downward tension on the spout, elongating the bag as it empties.

The high-integrity, dust-tight seal between the bag spout and clamp ring allows full-open discharge from the bag without dusting.
A POWER-CINCHER pneumatically-actuated flow control valve cinches the bag spout concentrically with no leakage of material, allowing gradual opening of the bag spout as well as retying of partially empty bags.
The discharger is also equipped with FLOW-FLEXER bag activators that raise and lower opposite bottom edges of the bag at timed intervals, loosening compacted materials and promoting material flow into the bag discharge spout.
www.flexicon.com; 610-814-2400