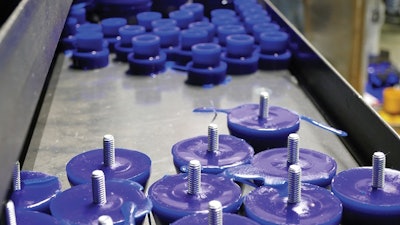 Chemline, Inc. (St. Louis, MO) manufactures hot cast urethane prepolymers for use in the most rigorous applications where the highest performance is required. Processing these materials typically involves heated components and tooling, along with a hot post-cure to optimize properties. Custom formulations are available in a wide range of durometers – from 20 Shore A to 85 Shore D – developed to possess superior toughness, durability and load-bearing capability. Hot cast prepolymers can be tailored for ideal chemical, hydrolysis, abrasion, cut, tear and fatigue resistance, depending on the specific application. Key features include:
Excellent abrasion resistance.

High load bearing capability.

Cut, tear and fatigue resistance.

Chemical and hydrolytic resistance.
Chemline's hot cast prepolymers are used extensively in markets including: mining, marine, industrial tires and wheels, metals manufacturing, oil and gas, heavy equipment, pulp and paper, transportation and industrial equipment markets.
www.chemline.net; 314-664-2230