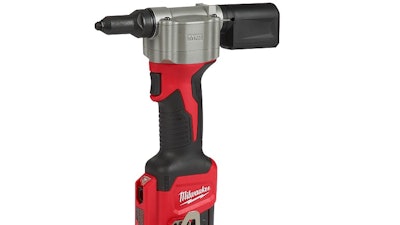 Milwaukee Tool (Milwaukee, WI) has expanded the largest sub-compact system in the industry, the M12 platform, with the new M12 Rivet Tool. Engineered with Milwaukee's advanced M12 technology, the new tool rivets up to 2X faster and requires 65 percent less muscle effort than hand tools, and eliminates the maintenance of pneumatic hoses and compressors. The M12 Rivet Tool is the industry's first rivet tool that uses a scotch yolk mechanism, which dramatically impacts the tool's performance versus the ball and screw mechanisms utilized by other rivet tools. The scotch yolk mechanism is much smaller, allowing the tool to deliver a huge amount of force in a more compact and shorter package. The M12 Rivet Tool offers the following benefits:
Powered by M12 REDLITHIUM batteries, the M12 Rivet Tool can pop over (250) 3/16" stainless steel rivets.
The REDLITHIUM Battery Pack delivers more work per charge and more work over pack life, maintaining power under load better.
With a capacity of 3/32", 1/8", 5/32", and 3/16", the M12 Rivet Tool can pop a range of materials including aluminum, steel and stainless steel rivets.
REDLINK Intelligence hardware and software integrates full-circle communication between the tool, battery and charger to protect them from overloading, overheating, and over-discharging.
Whereas other non-powered hand tools of its type require the user to apply force consistently while using both hands, the single trigger engagement of the M12 Rivet Tool significantly impacts the muscle effort required to complete a rivet by up to 65 percent. This overall reduction in force and muscle effort can help decrease user injuries.
www.milwaukeetool.com; 800-SAWDUST