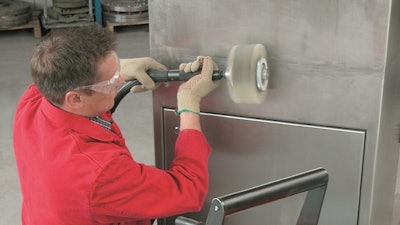 Suhner
Suhner (Rome, GA) introduces the Rotomax flexible shaft machine which has interchangeable hand pieces that allow a user the freedom to perform a variety of machining operations with a single machine. Rotomax features:
The ability to function as an angle grinder, straight grinder, drum polisher, belt sander, tube polisher or die grinder.
Applicability in industrial steel fabrication, polishing operations, sheet metal assembly, food processing, and appliance manufacturing.
A range of power from 2.0 to 4.7 HP.
Electronically-controlled speeds ranging from 500 to 15,000 RPM in increments of 100 RPM at the touch of a button.
An industrial grade motor and solid-state electronic control for constant speed and torque.
Soft start.
Integrated braking.
An LED-displayed speed gauge.
Available as a hanging model, on the basic stand, or on a specially-designed stable trolley (STM).
For more information, visit www.suhner-abrasive-expert.com or call 706-235-8046.