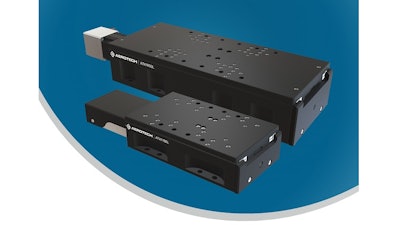 The ATX series linear positioning stages from Aerotech (Pittsburgh, PA) combine the performance capabilities of a high-precision crossed-roller-bearing positioner with the convenience and simplicity of a ball-screw drive mechanism. Features include:
Anti-creep crossed-roller bearings and a precision-ground, fine-pitch ball-screw, resulting in excellent geometric performance and minimal angular error motion. With up to 250 mm of nominal travel, these linear stages offer superior minimum incremental step size and in-position stability compared to other stages that utilize recirculating ball bearings.

An integral center-mounted linear encoder option, to provide direct position measurement at the stage's moving carriage. The typical effects of backlash commonly associated with screw drives are virtually eliminated when using the linear encoder as a position feedback device.

A variety of standard features and options, allowing them to be easily integrated into a larger subsystem or machine, or to serve as a stand-alone positioning axis. They mount to both metric and English optical tables and feature a versatile customer mounting interface on the moving carriage to which other positioning stages or equipment can be mounted. Brushless, slotless servomotors, with or without a holding brake, as well as stepper motors are available.

Aerotech's ThermoComp, an integrated temperature compensation solution that delivers accurate and dependable positioning performance in the presence of thermal disturbances. It protects the stage from the effects of variable-temperature environments and friction-induced self-heating, ultimately providing stability to the user's process even in extreme industrial environments.
www.aerotech.com; 412-963-7470