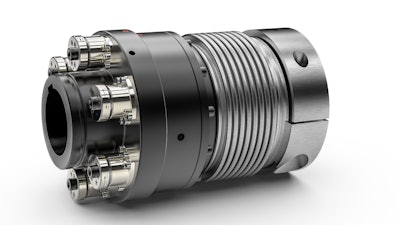 R+W (Bensenville, IL) brings heavy duty torque overload protection to dynamic precision applications with the new STB series safety coupling. Featuring the well proven technology of the ball-detent safety element system, which disconnects drivelines within milliseconds of a torque overload event, this version offers the highest precision transfer of motion and torque by using a symmetrically formed, torsionally rigid stainless steel bellows for the inline flexible element. This makes the coupling ideal for high speed, high precision, dynamic and reversing applications. Benefits include:
Availability in a wide variety of sizes and can be configured for disengagement torques between 200 Nm to 160,000 Nm.
User adjustability of the safety elements to fine tune the disengagement torque level, or change the number of safety elements to make large adjustments to the disengagement torque range even after installation. This particular model is available in the full disengagement function system, and comes with an optional ring for easier re-engagement.

Welded connections on the stainless steel bellows, allowing this safety coupling to perform in high temperature and corrosive environments.
While the model pictured has a keyway, clamping rings and flange connections are also popular options. Special versions for extreme speeds are also available on request.
www.rw-america.com; 630-521-9911