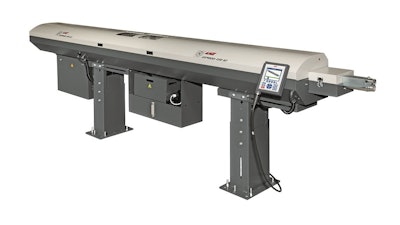 LNS
At IMTS 2016, Booth #S-8586, LNS (Cincinnati, OH) will present the latest advancements in bar feeding, work holding, chip/coolant management, and air filtration. The company will also introduce an enhanced automatic bar feeder and a new chip conveyor that will be available as of September 2016 (see photos in gallery).
The Express 220 S2 Automatic Magazine Bar Feeder features:
The ability to loads 12' long bars with diameters from 2 mm to 20 mm — with bar preparation, it can suite diameters up to 26 mm.
A simple loading assistance design for small diameter bars with a proprietary, automatic loading mechanism and bar selection system to precisely and consistently load small bars without failure.
A standard, high-capacity, 240-mm wide magazine tray and optional extended capacity magazine tray for unattended and lights-out production.
A patented, high-speed, headstock synchronization system that meets the requirements of today's sliding headstock machines.
A sturdy, fully automatic, 6" hydrostatic front stabilizer that eliminates residual vibration between the bar feeder and the lathe.
A prompting, hand-held HMI with touchscreen.
The latest servo drive and PLC technologies.
Ethernet readiness with a 500 parts library that reduces changeover time and material waste.
An optional, proprietary retraction system that facilitates easier maintenance and provides the ability to perform non-guide bushing applications.
The New SFcompact Chip Conveyor features:
The ability to filter coolant to 50 microns and handle virtually all chip types and sizes without the problems associated with traditional drum-type chip conveyors.
Patented, self-cleaning dual filters that can be removed, if necessary, in 15 minutes after removing the chip conveyor.
A filtering system that is integrated within the rigid frame, minimizing the total footprint.
Filters that eliminate the problem of chips wrapping around a drum, thus causing blockages, damage and machine tool downtime.
A hardened track, rigid frame construction and other wear-resistant components.
For more information, call 513-528-5674, or visit www.LNS-america.com.