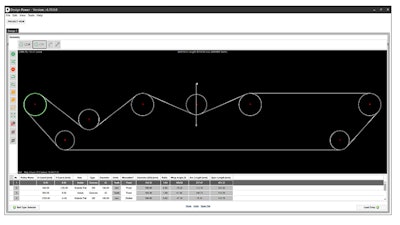 Gates (Denver, CO) has announced the launch of Gates Design Power, a new software platform offering multiple digital design tools to support the engineering and specification of belt-drive systems across a broad array of applications, making the process easier and more robust than ever before. Specifically:
This new digital toolkit consists of six modules, including four all-new applications and substantially upgraded versions of well-known Gates digital tools, Design IQ and Design Flex Pro.

The Gates Design Power platform includes the most sophisticated belt-performance models in the industry, based on data gathered at Gates state of the art, global test laboratories, to ensure that customers are designing robust, application-specific drive systems, ultimately improving safety and operating costs, while reducing energy consumption and downtime in their operations.

Added features in the new platform improve the design process and make it easier than ever, even for inexperienced engineers, to design belt drives.

New collaboration functionality enables customer engineers to partner with Gates application engineering experts to efficiently create the optimal drive design.

Users also now have the ability to store multiple designs in a single project file, tracking design derivatives and iterations, and noting who made what changes along the way.
Gates Design Power is now available globally as a free download and includes 15 different languages for use across most regions. Development of the Design Power platform is ongoing, and additional features and enhancements are planned to roll out over the next 12 months, including mobile device compatibility.