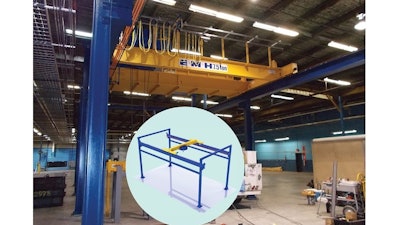 Engineered Material Handling (EMH; Valley City, OH) has recently introduced double-girder NOMAD Free-Standing Cranes for rugged operational demands, or when better space utilization is required. NOMAD Cranes are available in overall widths up to 50 feet and overall heights up to 25 feet, with capacities of 2 tons to 10 tons. NOMAD Free-Standing Cranes are modular, providing flexible solutions for manufacturers when needs change or when a traditional overhead crane installation is either difficult or impractical.
Double-girder free standing NOMAD Free Standing cranes are durable solutions for extremely heavy usage or when higher hook height is required for safe clearance under the hook as well as better space utilization. Base plate design allows most NOMAD systems to be installed without footers. With easily bolted assembly, NOMAD Crane Systems are easily dismantled, relocated, and reassembled when the need arises. EMH can also retrofit existing NOMAD crane installations with double-girder capabilities.
NOMAD Cranes are available for one, two, three or four-cell manufacturing systems, with safety-enclosed-type runway electrification, brackets that are welded on runway support columns, and with the conductor bars installed in the field. Each system comes complete with mounting plates, bolts, and bumpers and with top running end-truck travel speeds of 80 or 120 FPM (VFD). Wire rope hoists provide lifting speeds of 16/2.6 FPM with trolley speeds of 65 FPM (VFD). Bridge conductor cables are pre-wired to quick disconnect plugs.
NOMAD Cranes come standard with radio controls. Each system comes complete with a hand-held AAA operated radio controller. Rechargeable models are optional. A back-up pushbutton station can be provided as an option.
www.emhcranes.com, 330-220-8600