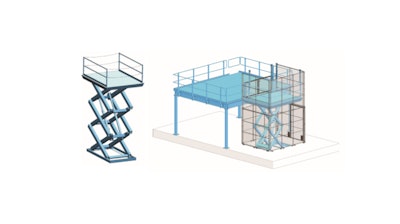 Advance Lifts (St. Charles, IL) has been designing and building scissors lifts since 1974 and has the largest selection of standard multistage scissors lifts in the industry. According to the company, the advantages of scissors lifts include the following:
Scissors lifts are fully assembled at the factory and not field assembled from kits.
Scissors lifts have no external guides and are guided and supported by the scissors mechanism under the platform.
Scissors lifts do not require licensed elevator installers.
Rider scissors lifts are controlled by the rider/operator using a constant pressure pushbutton mounted on the platform. Riders are considered incidental to the cargo.
Non-rider lifts are controlled by call/send buttons mounted at each level.
The Advancemezzaninelifts.com website contains model selection charts, photos, videos and white papers to aid in the selection and specification process.
www.advancelifts.com; 800-843-3625