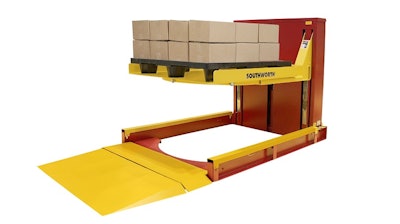 The PalletPal Roll-On with Turntable from Southworth Products (Portland, ME) features a platform that lowers to floor height so that pallets can be placed and removed using a hand pallet truck. A built-in turntable allows users to effortlessly rotate loads so that they are always loading or unloading pallets from the near side. Benefits include the following:
The unit's capacity is 2500 lbs. and its 44" x 48" platform accepts a variety of pallet sizes. The fully raised platform height is 30".

In loading operations, a pallet is placed on the platform and the platform is raised by hydraulic power to its full up position. As goods are loaded onto the pallet, the platform is lowered so that each succeeding tier of goods can be loaded at the same height.

When unloading pallets, the platform starts at its lowest height and is progressively raised so that each succeeding tier of goods can be removed at the same height.

 

The unit can be easily accessed from three sides with a minimum of stretching or reaching.

 

Toe protection is provided on all working sides. Raising and lowering is controlled by either a pushbutton pendant or foot switch.
www.southworthproducts.com; 207-878-0700