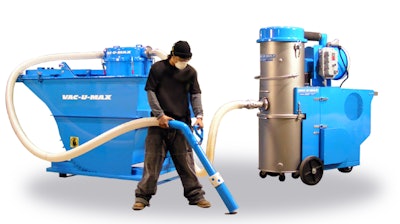 VAC-U-MAX
VAC-U-MAX (Belleville, NJ) will exhibit at the 32nd Annual International Fuel Ethanol Workshop & Expo from June 20-23, 2016 at the Wisconsin Convention Center in Milwaukee, Wisconsin. The following equipment will be on display in Milwaukee.
MDL 1020MFS: Continuous-Duty Industrial Vacuum for High Volume Recovery
A powerful positive displacement pump designed specifically for high volume recovery (up to 5 tons per hour).

Availability in either 10 or 15 HP.
A secondary cartridge filter.
A vacuum relief valve.
A 40-gallon collection container.
The ability to be maneuvered by a single operator.
Noise levels are below OSHA standard.
Model 40008: Industrial Vacuum Cleaner for Fine Powders & Combustible Dusts
An air-powered industrial vacuum featuring a 30-gallon tank.
Pulse-jet filter cleaning for Class II, Division II environments
Completely grounded and bonded.
Meets NFPA 70 requirements.
A single venturi suction source.
Manual pulse filter cleaning with air reservoir.
Noise muffler for sound levels below 80 dbA.
Model TK-05: High Volume Liquid Recovery
Suitable for applications requiring high volume liquid recovery, with wet and dry options available as application dictates.
Design that fills 99% of closed top drums at rates of up to 2 gallons per second.
A single venturi, producing maximum suction and air-flow with minimum air consumption.
A quiet operation, with no motor noise and air exhaust muffled for sound levels within OSHA requirements.
Availability in carbon or stainless steel construction.
Dry-only models that are HEPA filtered.
For more information, visit www.vac-u-max.com.