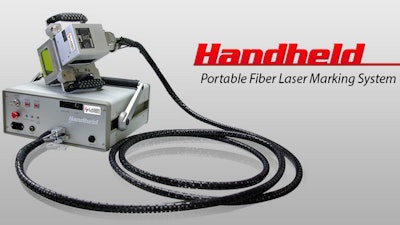 Laser Photonics (Orlando, FL) announces the newest model of the Handheld MarkStarPro. Benefits include a smaller, lighter weight design with all cables enclosed – plus the versatility, high performance and rugged portability of the company's Handheld Series.
The MarkStarPro is designed for a wide range of engraving and marking applications in the field or around the shop. This fiber laser engraving and marking machine can mark and engrave on many materials, sizes and locations where other marking and engraving machines cannot, and has been deployed in many industries including medical, defense, marine, fashion, aerospace and food & beverage. The Handheld MarkStarPro portable laser marking and engraving machine is ideal for marking applications such as:
Laser engraving & marking firearms and weapons.
Marking & engraving automotive parts.
Laser marking ID Cards and mobile devices.
Jewelry laser engraving.
Medical devices and implants for FDA compliance.
Electronics and industrial component marking.
Defense and aerospace direct parts marking.
Laser engraving logos and brand marking.
Laser marking barcoding and serial marking.
www.laserphotonics.com; 844-44 LASER