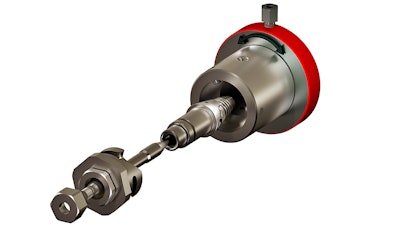 Guill Tool & Engineering
Guill Tool & Engineering (West Warwick, RI) has introduced the new Micro Medical, an extrusion crosshead that uses micro-fine adjustment screws for precise concentricity adjustment. Features include:
Precision of concentricity reaches 0.008" or finer per revolution.

Single point concentricity adjustment is a unique innovation for the extrusion of thin-walled and precision ID/OD medical tubing.

One adjustment bolt controls 360° of adjustment.

A patented cam-lock deflector for quick changeovers.

A residence time of one minute at .5 lb/hr material flow.

Optimized usage with extruders measuring ½" and ¾".

A max die ID of .250."

It accepts both vacuum and micro-air accessories, and is ideal for pressure and sleeving applications.

Fluoropolymer designs available upon request.
For more information, visit www.guill.com; or call 401-828-7600.