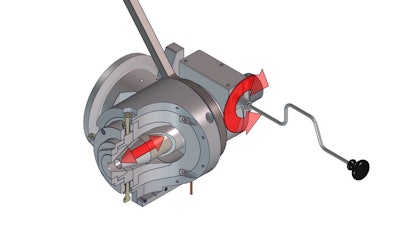 Guill
Guill Tool (West Warwick, RI) introduces the 500 Series crosshead with a mechanically-assisted gum space (MAGS) adjustment system. The 500 Series is designed specifically for the flow characteristics and unique processing challenges of elastomeric compounds. Features include:
A new method of gum space adjustment that allows the operator to make an adjustment from a single point using a common socket wrench.

A visual indicator on the core tube that allows the operator to see how far the gum space has been moved, making those adjustments more accurate and repeatable.
A hardware-free and patented cam lock design which eliminates need for unbolting and re-securing fasteners.
A cam nut that requires have of a turn to loosen and automatically extract the deflector from the head body.
No undercuts on the deflector, so there are no material hang-ups when extracting the deflector.
A Center-Stage concentricity adjustment system that reduces pressure on the tooling, allowing easier and more precise concentricity adjustments without loosening the face bolts.
Easy-Out inserts for the adjusting bolts also allow simple replacement of locked or damaged adjusting bolts.
A cast aluminum liquid-fed cooling sleeve that allows the user to switch out the cooling jacket in the event of a line obstruction.
A drop-in replacement on most existing NRM lines, and the ability to be adapted to fit any extruder design or line layout.
A newly designed flow inlet channel reduces the shear and heat that is generated as the materials are being processed.
A tool kit for assembly and disassembly as well as a detailed operator's instruction manual.
For more information, visit www.guill.com or call 401-828-7600.