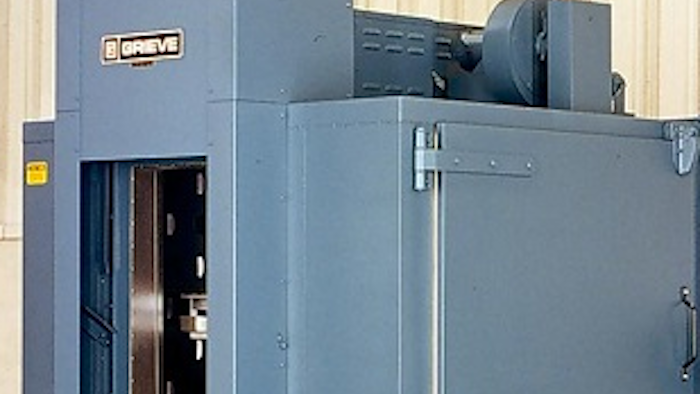 Grieve
The No. 816 from Grieve (Round Lake, IL) is a 500ºF gas-fired, rotary hearth oven currently used for preheating and curing powder coatings onto electric motor parts. Features include:
Workspace dimensions of 54" (W) x 54" (D) x 72" (H).
350,000 BTU/HR installed in a modulating gas burner.
A 4,200 CFM, 3 HP recirculating blower that provides horizontal airflow to the workload.
Aluminized steel interior and exterior with 4" insulated walls.
Two 48" diameter hearths, constructed from rolled angles and covered with perforated metal, that carry the loads in process.
A design that rotates for 15 seconds, every time the motor-operated vertical lift door is opened and closed.
Hearths that are driven by a 1/3 HP motor through a gear reducer with torque limiting device.
All safety equipment required by IRI, FM, and National Fire Protection Association Standard 86 for gas-fired equipment, including a 325 CFM, 1/3 HP powered forced exhauster.
For more information, visit www.grievecorp.com, or call (847) 546-8225.