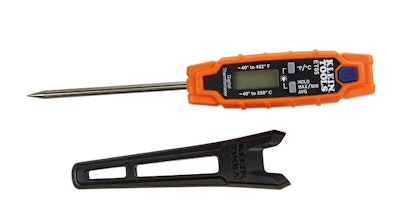 Klein Tools (Lincolnshire, IL) introduces two new HVAC products, the ET05 and ET110. The ET05 digital pocket thermometer (pictured) quickly measures air, surface or liquid temperature with its rugged, portable design. The ET110 carbon monoxide meter detects and measures concentration levels of carbon monoxide while also reading the temperature. Both tools provide convenient, easy-to-read measurements for tradespeople while on the job.
The ET05 Digital Pocket Thermometer:
Measures Fahrenheit and Celsius temperature with a user selectable toggle button.
Measures temperatures ranging from -40 to 482º F and -40 to 250º C with 0.1º resolution.

Includes a FDA GRAS-compliant 3" stainless steel probe for measuring temperature.

Offers HOLD/MAX/MIN/AVG button that easily toggles to capture maximum, minimum and average.
The ET110 Carbon Monoxide (CO) Meter:
Measures concentration levels of CO and temperature.
Features a backlit display with CO measurements from 0 to 1,000 ppm for easy viewing in low light.

Includes audible and visual alarms for CO detection with a low-level alarm at 35 ppm and high-level alarm at 200 ppm. The meter also includes a mute button to silence the alarm.
Offers a warning indicator light that blinks green for clean and red for CO detection.

Provides user protection with a short-term exposure limit (STEL) alarm.
www.kleintools.com; 847-821-5500